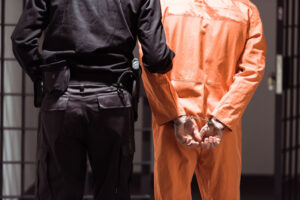 Few things are more worrisome than getting that phone call from a loved one telling you they have been arrested. Nevertheless, after the shock of receiving the phone call wears off, it's essential you act quickly to provide them with the help and support they need.
If your loved one is locked up, the quickest and most surefire way to get them out is to work with a bail bondsman. A bail bondsman can help you get your loved one out of jail the quickest, even if he or she or you are experiencing economic issues, since a bail bond allows you to get your loved one out with having to pay the entire bail amount all in one swoop.
Moreover, a bail bond can be used on a wide range of charges, including but not limited to DWIs, domestic incidents, robberies or any other felony in which your loved one is indicted and a bail is set by the judge presiding over the case. The price of bail is determined by the severity of the crime, and a bail bondsman will work with you to help get your loved one out. A bail bondsman never judges; we all make mistakes and we are just here to provide our clients with the services they need at their most difficult times, and to help protect their rights.
Reasons to Work With Bail Man Bail Bonds
We know the ins and outs of the system and will work on your behalf to get your loved one ASAP! While we may not be lawyers, we've been around the criminal justice system long enough to explain to you exactly what's to come and precisely what you can do to provide the support your loved one needs.
We save you a great deal of money, since you only have to put up a fraction of the cost of the bail, rather than having to pay the full amount.
We're tax free!
If your loved one misses his or her court date, we can reinstate the bail. In this situation, the county puts a bench warrant out for your arrest, but we can take you back to court and have bail reinstated since it supersedes the bench warrant.
Working with us is the quickest way to get your loved one out of lockup. This is more important than perhaps ever before thanks to COVID pandemic. It's bad enough your loved one is stuck inside with terrible food and living conditions…but now they have to worry about getting sick and really have little to no control over being able to avoid the illness if the virus enters the building and spreads.
We are fully insured and certified and have built our sterling reputation by providing our clients with fast and friendly service!
We are available 24 hours a day, 7 days a week and 365 days a year for our clients!
Bail Man Bail Bonds works with clients throughout the area, including those in, LA County, Ventura County, Orange County. More specifically, we'll travel to Hollywood, West Hollywood, Los Angeles, San Fernando, Glendale, Long Beach and Van Nuys, among other locations. We've been doing this for years and we'll help you throughout the process. We're here for you!
Call us toll free at 866-945-2245 for more information.