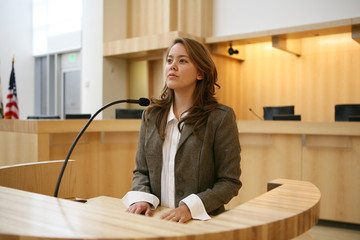 An American who represents themselves in court has a fool for a client, according to an old story told about former President Abraham Lincoln. But the truth about that quote is that it actually arose from Henry Kett's 1814 collection of proverbs and Bon Mots called "The Flowers of Wit."
Here Kett suggests it was an eminent lawyer who actually coined that quote, and it seems Kett may have been hinting to potential legal defendants there might be some bias in the quote itself.
In 2019, a day and age where even the president's lawyers are being indicted, some Americans might be smart to wonder if having your own lawyer is an act of foolishness in itself.
If you are wondering whether or not you can represent yourself in court, check out these pros and cons before you begin making those preparations.
Can You Represent Yourself in Court?
Being faced with a legal problem can be intimidating, and very isolating experience. You might feel even more alone if you want to represent yourself in court to save money or even time in the justice system.
But at the end of the day, in this day and age, as many as eighty percent of criminal defendants start a case without a lawyer.
So yes you can represent yourself in court, and in some circumstances, you are forced to.
Although the Miranda rights of certain defendants include the right to retain counsel or have it appointed to you, those rights do not apply to defendants that are charged with crimes, but are not arrested.
In other words, if you are charged with a misdemeanor and don't go to jail, you don't have the right to free counsel in America.
This applies to civil cases as well, which are cases you will have to pay for your own counsel if you want it.
In most cases, you can represent yourself in court. In rare and extreme cases, a judge may require representation on serious charges, in order to avoid the possibility of an appeal on the grounds of ineffective counsel.
But also in most cases, having a lawyer can actually help you and your case receive the best possible outcome for your life.
Even so, there are times it could be foolish to represent yourself, and there are many cons to doing so.
Cons: Self-Representation Could be Costly
It goes without saying that having your own lawyer that is not court-appointed could be costly. But at the same time, not having one could be costly to your end game.
This could be costly in civil court if you lose because you represented yourself. But it could also be costly in other courts from a legal cost perspective, such as family court or criminal court.
Decisions made could impact the rest of your life. Examples of this include custody decisions, or those related to access to your children, or jail time.
You may be able to represent yourself in court in any case. But effectively representing yourself, and winning in court, are two different things in the legal system.
You may lose a negotiation, at trial, or even in discussion with the other party, who could be a lawyer, because you just don't have the experience.
Someone that knows the lingo, knows the judges and knows the system better than you, will have a leg up on your case.  This is true even if you have a rock solid case to represent for yourself.
Seasoned lawyers lose in court all the time, which means you can too, even if you think you have an excellent case.
Cons: The Legal System May be Biased Against You
You may already have the balance of probabilities stacked against you if you decide to self-represent.  Those with less experience may have a pre-existing bias against them.
Many judges and lawyers in court do not like it when they are in court with someone that is self-represented because it slows up the process. Some judges may be understanding and accommodating, but some are biased against you for the very act of not being able to afford a lawyer.
Judge Posner of the United States Court of Appeals for the Seventh Circuit retired because he felt Americans in the legal system that did not have lawyers were mistreated.
It isn't how it is supposed to be.  But clearly, high-ranking judges themselves acknowledge that it happens.
If you are forced to wear jail-issued clothing to court before your case is resolved, something such as an orange jumpsuit could affect your case.
In court, appearances could be everything when it comes to your final outcome.
Cons: Your Rights Could be Violated Without Your Knowledge
The main reason people hire lawyers is that they need to have their rights represented in court or at hearings. You may be well versed on your rights, but you still may not know all of your rights the way a lawyer would.
And many lawyers in court, that aren't representing you, will not share that knowledge with you.
You could have rights violated without your knowledge and this will impact your case. It could also impact any appeal you may have, or grounds for an appeal should the need arise.
Before you start, review this ultimate guide to representing yourself in court.
Pros: Courts Evolve For Self-Representation
As the technology age progresses, and litigants and defendants have more access to legal knowledge, more and more people are self-representing. This means that it is getting easier to represent yourself in court, and more courts are evolving with this trend.
Not only are more courts accustomed to it today, but more are assisting the process through innovations in the courthouse.
This could include free duty counsel assistance to get free legal advice before a hearing, or even more help from the court clerks. Many judges are more accustomed to seeing it as well, in all types of court hearings, and are very helpful to litigants and defendants that are confused during the process.
At the same time, if you feel the system is biased against you, you do in many cases have the right to request a jury trial. This can be helpful for you to worry less about the opinions of a jury of your peers, as opposed to worrying about the opinions of a courtroom full of legal professionals.
Pros: Save Money
Saving money is perhaps the biggest reason people choose to represent themselves in court, and it's a worthy reason. You don't have to be on the poverty line to want to use this reason as well.
You may well have an airtight case that is simple to manage on your own, without racking up thousands of dollars in lawyer's fees.
And in cases like family court, the legal rules and protocol lend to an air of balanced probabilities in a two-party system anyway.
You are going to have your say in court whether you have a lawyer or not.
Having a lawyer in some cases may also mean that you don't even have your whole story heard, because some lawyers think it's not a great story to tell. But you still have a right to tell your story and have your day in court, no matter what side of the fence you are on.
Pros: Lawyers Aren't Always Honest
Abraham Lincoln was reportedly an honest lawyer, to the extent that he even gave legal retainers back if he felt there was no case to be had. But at the same time, one of his own Letters to Congress illustrated he knew of a "vague popular belief" that lawyers were "necessarily dishonest."
While he may have felt that it was foolish to represent yourself in court, he also called to all lawyers, to be honest, or choose a different profession.
But we know that doesn't always happen, and that's the last problem you want to be facing when dealing with a serious legal problem.
Contact Expert Help
When you have legal problems in America, your Sixth Amendment Constitutional rights demand that you have the right to a lawyer and speedy trial. But you do not always have the right to have a lawyer paid for you by the state.
And as much as you think you may know, or as good as you think your case may be, you may not even know any of that if you are representing yourself in court.
At the same time, even if you do know those rights, you may not know how to argue for them successfully in court. And that lack of knowledge could hurt you in the earliest stages of your court case.
When that happens, it sets the tone for your entire case which could lead to disastrous consequences for you, for the rest of your life. Even if you decide to later represent yourself in court, get help in the earliest stages with a free consultation about any part of the bail process in the Van Nuys area from Bail Man Bail Bonds.